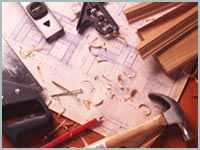 CHARLES SCHMITT has been involved in construction and design for 34 years. His education includes architectural training at Rensselaer Polytechnic Institute. He holds a Masters degree from St. Anthony-on-Hudson, Rensselaer, New York.  A former math professor, he has a particular sensitivity for the structural aspects of any project. 

He previously has been involved in the design and building of custom homes in Bethany Beach, Delaware. Charlie has an eye for detail and is known for his meticulous craftsmanship.

MALLORY ZOLYAN-SCHMITT received training in Theatrical Design from Boston University and holds a BA from University of Denver . She also earned a MBA in Marketing from Pace University, New York.

Previously, she was involved in market and media research and has a keen sense of demographic and market trends. For the past 26 years, she has also been a Realtor in Howard County, Maryland and brings her knowledge of  marketing to customers preparing to sell their home or concerned about the cost vs. value aspect in the planning stages of a remodeling project.

Charlie & Mallory are particularly attentive to the planning process. They meet with their customers to evaluate the homeowners' needs, and are excellent problem-solvers.

Whether it's a very narrow kitchen needing more storage space or a basement that has to function as several different spaces, they are able to create the best possible solution for whatever situation they encounter.