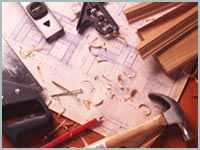 The Home Healer was born in 1990 after identifying a need of  homeowners for someone to do the list of little things that they were unable or unwilling to do in their own home. There were many companies who wanted to do the big projects, like finishing basements or building additions, but it was difficult to find someone to do the "small stuff".

Charles Schmitt and his wife Mallory saw the opportunity to fill this void and started out small.  Charles worked alone out of a small vehicle; Mallory set up an office in their home and purchased the materials. Thus, the beginnings of The Home Healer.

Quickly, word spread and Charlie was always busy. He soon hired a helper, but being a "hands-on" type of guy was always at each and every job. Word of the quality and professionalism continued to spread and the list of pending projects continued to grow. But a decision was made to keep the company small to maintain the highest level of craftsmanship and provide the best value for homeowners.

Today, Charlie is still on every job; Mallory is in the office busy with bookkeeping and purchasing as well as project management. To this day we have never advertised to the public; yet we always have quite a list of jobs with customers willing to wait for us! Our reputation has been passed along by word of mouth, which to us is the best advertising we could have!